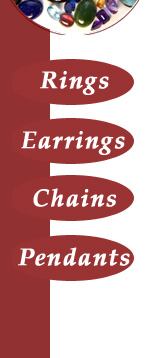 Earrings

All earrings shown are studs, but we can do earrings with wires.
Call or e-mail us for quotes.
Virtually anything that we do in sterling silver we can do in 14Kt. yellow gold.
Because of fluctuating gold prices, please e-mail or call for quotes.
Prices below are subject to change after February 14, 2013.
Faceted Gemstone Earrings
#020
Emerald cut
stones
6 x 4 mm
7 x 5 mm
8 x 6 mm
10 x 8 mm
Alexandrite (LC)
$13.95
$15.95
$19.95
$30.95
Amethyst
$20.95
$28.95
$40.95
$76.95
Aquamarine
$24.95
$36.95
$52.95
$104.95
Blue Sapphire (LC)
$14.95
$18.95
$23.95
$39.95
Citrine
$16.95
18.95
$30.95
$54.95
Emerald Obsidianite
$40.95
$50.95
$60.95
$85.95
Garnet
$16.95
$22.95
$30.95
$54.95
Peridot
$19.95
$26.95
$37.95
N/A
Ruby (LC)
$12.95
$15.95
$18.95
$28.95
Smoky Quartz
$13.95
$16.95
$21.95
$34.95
Topaz, Electra Blue
$15.95
$20.95
$26.95
$46.95
Topaz, London Blue
$16.95
$21.95
$28.95
$50.95
Topaz, Mystic Fire
$15.95
$19.95
$25.95
$44.95
Topaz, Sky Blue
$14.95
$18.95
$22.95
$38.95
Topaz, Twilight
$16.95
N/A
$28.95
N/A
Topaz, White
$13.95
$16.95
$20.95
$32.95
$4.00
Oval Cut
#050
stones
6 x 4 mm
7 x 5 mm
8 x 6 mm
10 x 8 mm
Alexandrite (LC)
$12.95
$14.95
$149.95
$26.95
Amethyst
$19.95
$25.95
$36.95
$61.95
Aquamarine
$22.95
$31.95
$47.95
$83.95
Blue Sapphire (LC)
$14.95
$16.95
$22.95
$33.95
Citrine
$16.95
$20.95
$27.95
$44.95
Emerald Obsidianite
$39.95
$45.95
$57.95
$80.95
Garnet
$16.95
$20.95
$27.95
$44.95
Peridot
$18.95
$23.95
$34.95
N/A
Ruby (LC)
$12.95
$14.95
$17.95
$24.95
Smoky Quartz
$13.95
$15.95
$19.95
$29.95
Topaz, Electra Blue
$14.95
$18.95
$24.95
$38.95
Topaz, London Blue
$15.95
$19.95
$26.95
$41.95
Topaz, Mystic Fire
$14.95
$17.95
$23.95
$36.95
Topaz, Sky Blue
$13.95
$16.95
$21.95
$32.95
Topaz, Twilight
$15.95
N/A
$22.95
N/A
Topaz, White
$12.95
$15.95
$19.95
$27.95
CABOCHONS
#650
stones
10 x 8 mm
12 x 10 mm
Abalone
$13.95
$16.95
Amber
$13.95
$16.95
Amethyst
$13.95
$16.95
Bloodstone
$13.95
$16.95
Blue Agate
$13.95
$16.95
Blue Lace Agate
$13.95
$16.95
Blue Mist Chalcedony
$13.95
N/A
Botswana Agate
$13.95
$16.95
Carnelian
$13.95
$16.95
Charoite
$13.95
$16.95
Garnet
$17.95
$24.95
Green Agate
$13.95
$16.95
Hematite
$13.95
$16.95
Hematite, Faceted
$15.95
$17.95
Howlite
$13.95
$16.95
Jade, Green
$13.95
$16.95
Lapis Denim
$13.95
$16.95
Lapis Lazuli
$13.95
$18.95
Leopardskin Jasper
$13.95
$16.95
Malachite
$13.95
$16.95
Mother-of-Pearl
$13.95
$16.95
Mother-of-Pearl, Black
$13.95
$16.95
Onyx, Black
$13.95
$16.95
Onyx, Black Faceted
$13.95
$16.95
Opal, Black Triplet
$50.95
N/A
Opal, Black Triplet "A"
$50.95
N/A
Quartz, Clear
$13.95
$16.95
Quartz, Rose
$13.95
$16.95
Rhodochrosite
$16.95
$20.95
Snowflake Obsidian
$13.95
$16.95
Tiger Eye
$13.95
$16.95
Turquoise
$13.95
$16.95
Turquoise, Sleeping Beauty
$21.95
$23.95

N/A = Not Available
(LC) = Lab Created